Who does not love racing games? I know, I am the biggest fan of racing games. Here in this article, from my observations I have added the 11 BEST RACING GAME OF ALL TIME. Read this article and play these games.
1 . F1 2020:
Codemasters is the company that is responsible for developing and publishing this game. In this game, you will have the opportunity to form your very own F1® team and compete alongside the official teams and drivers for the first time. You can also compete against your pals in a new split-screen mode with casual racing settings. If you haven't been able to complete even one season of F1 2019 by now, you should look forward to F1 2020 because it features a 10-year career mode that is superior to everything that came before it. Additionally, the seasons in this mode are shorter, with as few as nine races per season. The Formula One 2022 video game is one of my absolute favorites. I used to spend hours upon hours playing this game on my computer, where I could access it. These games provide a first-rate gaming experience that operates in real-time and includes impressive visuals. You will require at least 80 gigabytes of free space on the disk of your personal computer. To operate F1 2020, a computer processor with a minimum of a Core i3-2130 from Intel is necessary. Playing through the game's main story takes 38 hours and 30 minutes. I do not doubt that you are going to like playing this game.
2 . Wreckfest:
Bugbear Entertainment is the creator of the racing video game Wreckfest, and THQ Nordic is the company that published it. Wreckfest is a racing video game with a demolition derby motif that features soft-body damage modeling, advanced driving dynamics, and in-depth vehicle upgrading. Players can compete in demolition derbies as well as more typical track races. Bugbear Entertainment is the creator of the racing video game Wreckfest, and THQ Nordic is the company that published it. It's all about having a good time, racing as fast as possible, and crashing as hard as possible. There is a total of 18 hours' worth of gameplay in Wreckfest. Playing this game is enjoyable and worthwhile. The competition has a real-time gaming format, offering a fantastic route and challenging obstacles. You even get to pick your car, and the driving controls are simple to understand and use. Wreckfest will be available to play for any user who has an active subscription to PlayStation Plus. Users of either the PS4 or the PS5 will be able to get their hands on the first two games at the same time.
3 . Colin McRae Rally:
The game known as Colin McRae Rally is quite ancient. Codemasters is responsible for creating the racing video game Colin McRae Rally, launched for the PlayStation platform as well as the Microsoft Windows operating system. A video game was released in 1998. On a PlayStation, this game is quite simple to play. The graphics are appropriate, and the game's controls are straightforward. Is it possible that the message from PS says it's time to master the power? This game features various cars, each offering a unique perspective on the road. You can increase the game's difficulty by playing multiple game types, such as fast races, complete rallies, and championships, and by personalizing your experience by switching between several control schemes and camera angles.
4 . Midnight Club 3: DUB Edition:  
It is the first game in the series to enable automobile modification, both aesthetically and mechanically, and the open-world racing video game Midnight Club 3: Dub Edition is the first in the series to do so. Fans of the series will be pleased to discover that Midnight Club 3 is both a challenging and entertaining experience. If you enjoy playing Midnight Club 3, you will also adore this game. It offers a far more comprehensive selection of automobiles, in addition to the beautiful metropolis of Tokyo. The actual gameplay is quite challenging. You have to race through an open town while going through checkpoints, and it is easy for the vehicle to get off track. This game has a lot more depth than it appears at first glance because of the various customization options, the fantastic visual effects, and the underwater metropolis that serves as the basis for the career mode. But Midnight Club 3: DUB Edition plays best when players drive past one another aggressively to offer their rivals an excellent glimpse of that new rear spoiler they've just had installed. This is when the game is at its very best. I had almost 700 different autos to play with. In 2022, there will be a more significant number of automobiles. You must participate in this game.
5 . Hard Drivin':
Hard Drivin' is an arcade racing game that Atari first launched in 1989. It was an early example of a game created entirely in three dimensions. Hard Drivin' is a driving-themed video game that was produced by Atari Games in the year 1989. It allows players to test drive sports cars on circuits that emphasize speed and stunts. I am unable to provide a positive evaluation, regrettably. It has sluggish controls and stagnant action, and the graphics urge players to take it to slow far too often. It was the first game ever made in 3D. You are going to have an incredible time playing this game. But, in any case, I came upon a great driving simulator for Genesis that offers a convincing representation of a three-dimensional scene as seen from the driver's seat of a high-performance sports car. My uncle used to like playing this game when he was younger. It was phenomenal during his lifetime, on par with Wreckfest, Asphalt 9, and Need for Speed: No Limits in 2022. (our time).
6 . Wave Race 64: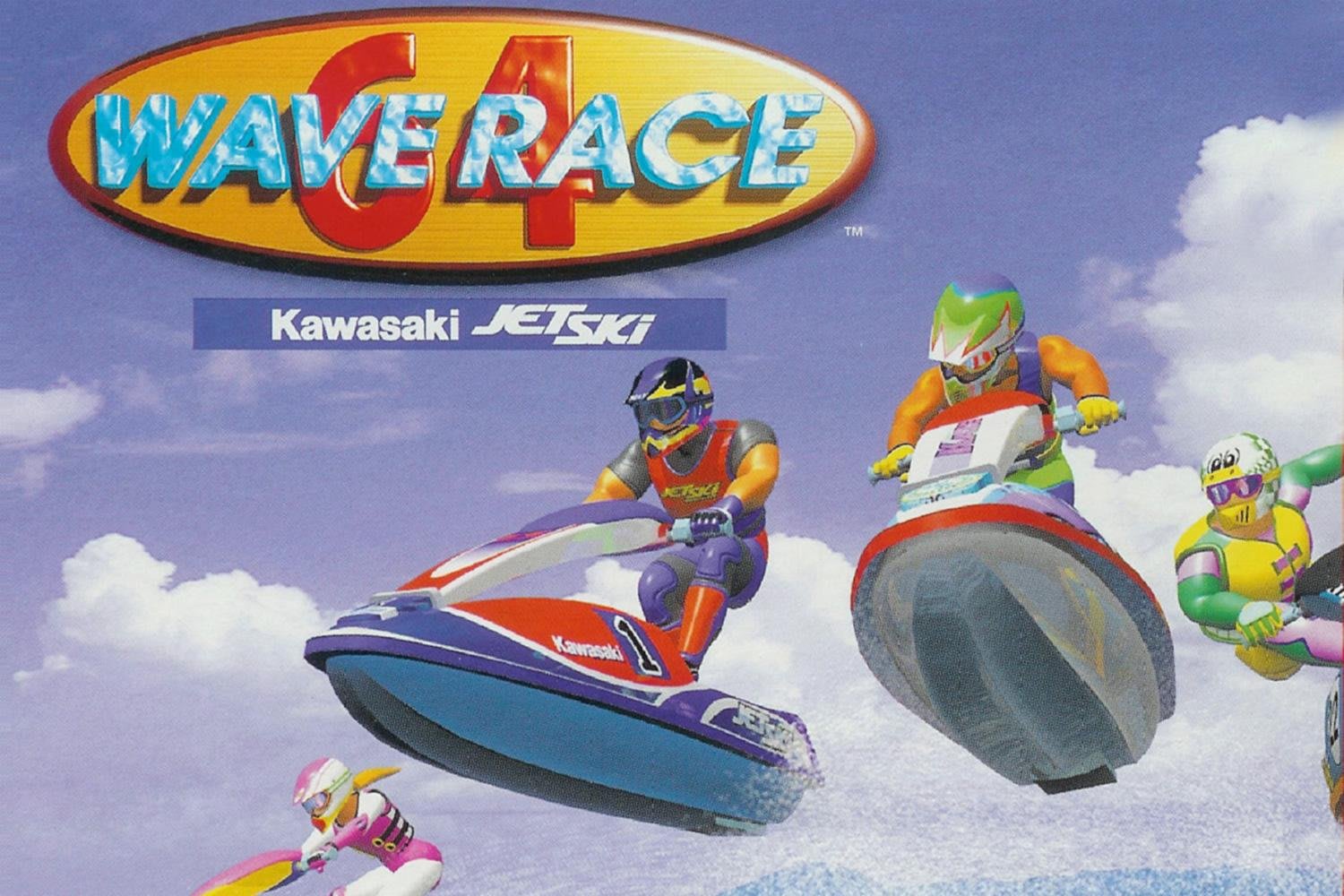 Once more, a classic game. The 64th edition of Wave Race took place on September 27, 1996. Nintendo EAD was the creator of the racing video game Wave Race 64, and Nintendo was the company that published it. In 1996, it was made available for the Nintendo 64 console. The multiplayer mode of Wave Race 64 only allows for a maximum of two players. Wave Race 64 is a jet-ski racing video game that significantly emphasizes the simulation of realistic water mechanics. Despite the game's advanced age, it is remarkable how successfully it accomplishes this goal. From my perspective, I used to enjoy playing this game when I was a kid. It's astonishing how nicely it's held up over the years. You are free to give it a shot and play the game whenever you have some spare time. The best old games often have something unique hidden somewhere in them. Boat games have always been one of my favorites. I don't care if it's an old game or not; I enjoyed playing it.
7 . Trials HD:  
The arcade classic Trials HD features various challenging and creative minigames. It's a video game from the 1980s that uses technology from the twenty-first century. It's a two-dimensional game. If the skill games are too challenging for you, you can create your own routes to ride or download those created by your friends. It's a game packed with items to unlock, customize, and depending on that, it's ridiculous. I'm 35. I don't have the time to play games like I did when I was younger because I don't have the time. I purchased the complete edition of the game after playing the demo since it was so much fun. It remained entertaining throughout the subsequent stages. As previously said, there was an abrupt increase in the difficulty level. It eventually reaches a point when it becomes pretty annoying. It makes sense that the element of skill would be intriguing to players. It is a fun and engaging game, but it may also get addictive. After purchasing the code online, it was delivered promptly, and I could use it without problems. I highly recommend this game to everyone looking for a fun game, especially those who enjoy racing games. This is a top-notch arcade game that will keep you captivated for an extended period.
8 . Rock n' Roll Racing:
Roll Racing is a type of street racing that begins with a roll as the starting position. Rock n' Roll Racing is a racing video game focused on vehicular combat. distributed by Interplay Productions. Silicon & Synapse was the studio that produced the game. Even though it is only 15.3 megabytes, the game has been around for quite some time. In the year 2022, you are going to be shocked to see how much the game has progressed. Therefore, you shouldn't avoid playing this game at all costs. Both my uncle and my father enjoyed playing this game quite a bit. This was a game that they used to play when they were their age. I used to enjoy playing this game. This is not the kind of game that appeals to me as a player of contemporary video games. It is a game about racing. Compete to win glory.
Consequently, I strongly recommend that you participate in this game at least once in your lifetime. Despite this, it looks very decent, and the automobiles have a beautiful metallic gloss. Because the controls in the game are so responsive, you will be able to devote more of your attention to the actual competition and spend less of it trying to adjust the settings.
9 . Mario Kart Tour:
Developed by DeNA and distributed by Nintendo, the kart racing mobile game Mario Kart Tour was released in 2019 for mobile platforms. It is the fourteenth installment in the Mario Kart series overall. You cannot play Mario Kart Tour without an internet connection. There must always be an internet connection to participate in the Mario Kart Tour and play the game. The total size of the game is 128 megabytes. The karts are easy to drive, the courses and characters look and sound lovely, and playing a simplified version of Mario that only requires one hand can be a lot of fun. The Mario Kart Tour is a well-made game. The graphics in this game are flawless, and the action is quite thrilling. This game brings back nostalgic feelings of playing classic Mario games. I rate this game a perfect five stars across the board. The fact that you will have to overcome various obstacles throughout this game is easily the most thrilling aspect.
10 . GT Racing 2:
A racing game that is comparable to the series Real Racing is called GT Racing 2, also known as the Real Car Experience. In addition to that, it is the second game in the Gameloft racing series and a continuation of the game GT Racing: Motor Academy. Gameloft has released yet another racing game for Android called The Real Car Exp that does not require WiFi. You can also use it offline if you don't have a connection or don't want to use it. The game's size is approximately 716 MB, but the user's device needs at least 2 GB of free space for additional components to be installed. From what I've seen and played, it appears to be a top-notch racing game. I can't get enough of playing this game over and over again. It prevents me from ever feeling bored. I particularly liked the graphics, how easy it was to manage, and most importantly, how I could compete against anyone. That is, it takes place in real-time. There will be no computer-controlled games. This one is my favorite compared to the other racing games I've played following Asphalt 9.
11 . Space Racing 3D:
The racing game Space Racing 3D is set in the science fiction universe, and it features stunning visuals in three dimensions as well as an enjoyable gameplay experience. The video game Space Racing 3D is a spacecraft racing game in which you take control of one of these vehicles, which are capable of reaching speeds of up to 250 miles per hour (400 kilometers per hour) in just a few short seconds. In Space Racing 3D, you take the helm of one of six unique vessels, each of which can be upgraded as you go through the game and complete additional challenges. This game is playable on personal computers. A personal computer makes the management of these controls considerably simpler. If you think you might enjoy playing this game, I encourage you to give it a shot. I have a lot of fond memories associated with playing this game back in the day. If you wish to play this game on Android, it's will take up about 14 megabytes of space on your device. The program known as Space Racing Game receives roughly three stars out of a possible five on average. The most recent version of the Space Racing 3D App, in addition to various prior versions, is available for download on our website.
(Visited 19 times, 1 visits today)